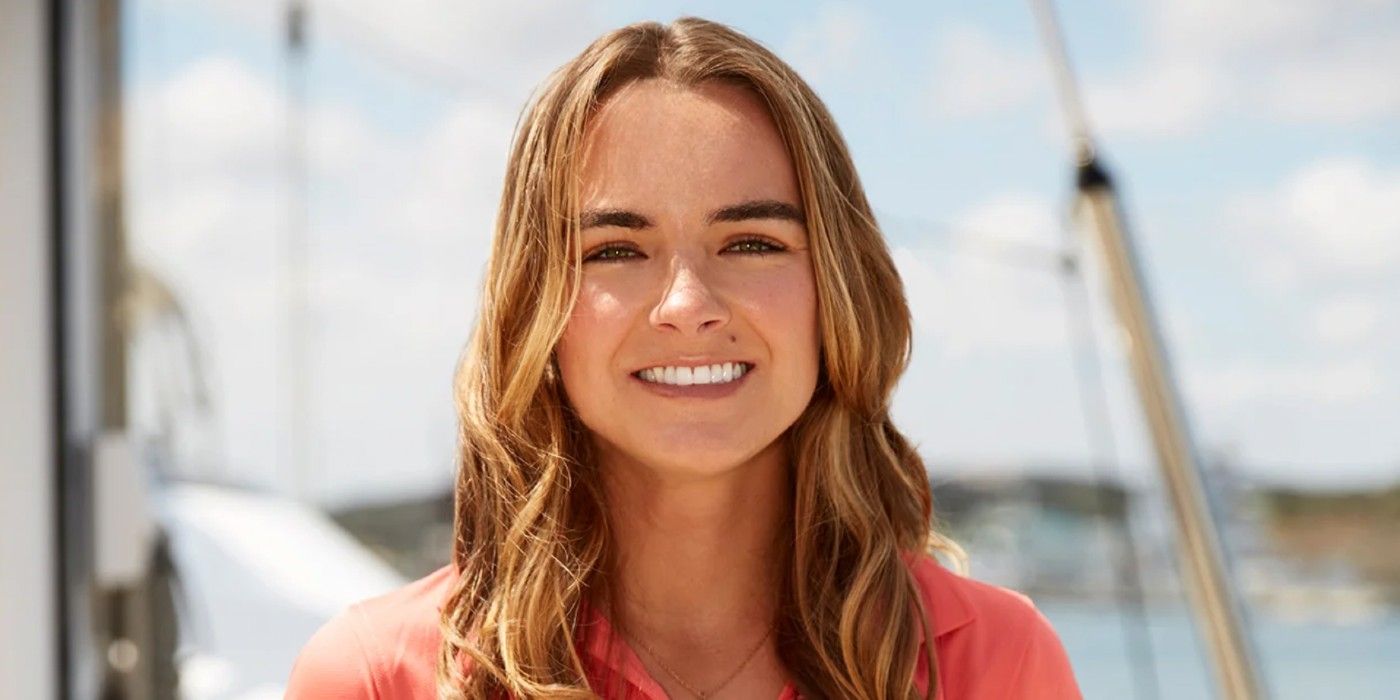 Kelsie Goglia is one of the new crew members joining Below Deck Sailing Yacht season 3 as a deckhand. The trailer for the new season dropped earlier this week, and Kelsie isn't the only newbie on board. Kelsie's fellow deckhand, Tom Pearson, is new to the series, as well as stews Gabriela Barragan and Ashley Marti, and Chef Marcos Spaziani. Besides the newcomers onboard, season 3 will also have several returning yachties from season 2. Returning from BDSY season 2 are chief steward Daisy Kelliher, first mate Gary King, chief engineer Colin MacRae, and Captain Glenn Shephard.
Last season was filled with drama from start to finish and even continued once the show was over. Viewers saw a love triangle between Gary, his deckhand Sydney Zaruba, and third stew Alli Dore. Second stew Dani Soares was also caught in a boatmance with deckhand Jean-Luc Cerza Lanaux that continued off-screen. In April 2021, Dani announced she was expecting her first child, which many fans believed to be Jean-Luc's. After many months of the unknown, Jean-Luc finally admitted he is the father of Dani's baby. Season 3 will have a tough time topping the season 2 drama.
Related: Below Deck Sailing Yacht: What To Know About Tom Pearson
According to her bio on BravoTV, Kelsie decided to dive headfirst into the yachting industry after she went on a sailing holiday in Croatia. Kelsie was immediately hit with the travel bug and decided to leave her corporate job for a life at sea. The BDSY season 3 newcomer is now working as a deckhand and wouldn't change her new career path for anything. It is no surprise that Kelsie loves to spend time in the outdoors, especially on the water. She now calls San Diego home during the off-season, which is perfect for Kelsie's adventurous needs. 
Now that Kelsie, who is on board alongside the first mate Gary on BDSY, is employed as a deckhand on the Parsalfil III, she is excited to bring her determination and work ethic on board. Even though Kelsie knows the meaning of hard work, she enjoys letting loose and having fun during her days off. Judging by Kelsie's Instagram page, the deckhand enjoys exploring and having fun with friends, which is evident by the carousel of photos above. It's difficult not to have fun when you're getting to work in one of the most beautiful cities in the world. In November 2021, Kelsie even did a charter season in Sardinia, Italy, seemingly on another sailing yacht. 
So far, Kelsie seems like she may have to stay power on future seasons of Below Deck Sailing Yacht. Not only does she seem fun and down to earth, but she truly enjoys her career as a deckhand.
Next: Below Deck Sailing Yacht Season 3 Trailer & Premiere Date Released By Bravo
Sources: BravoTV, Kelsie Goglia/ Instagram