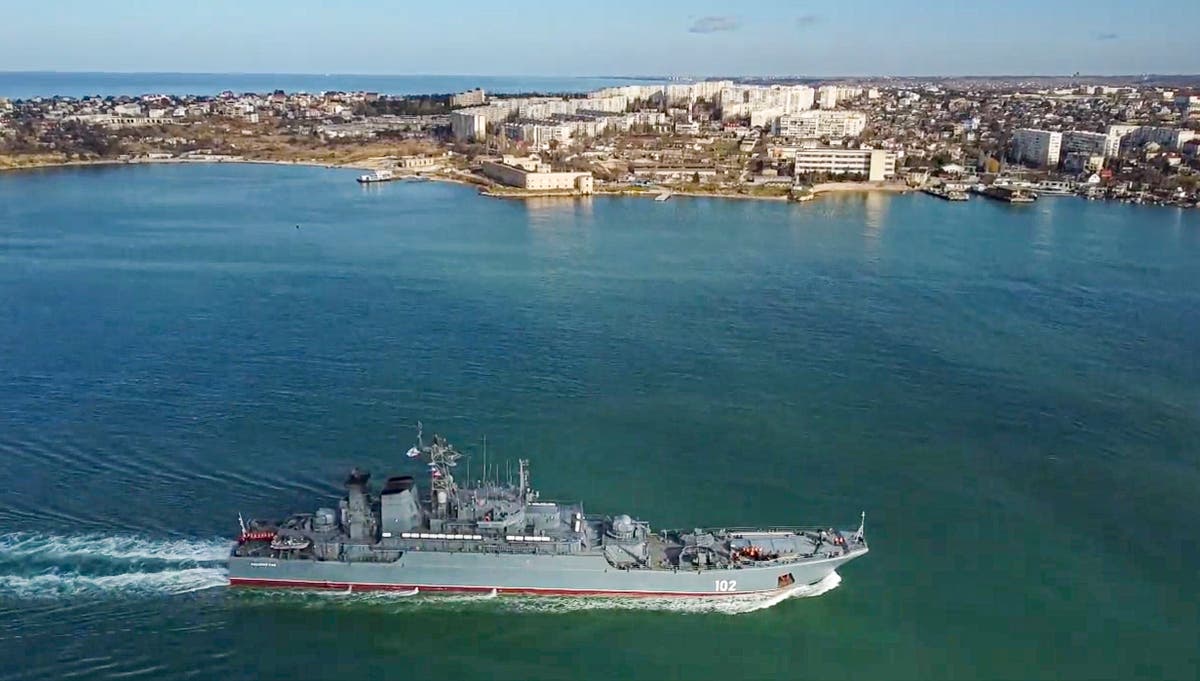 A Russian logistics ship caught fire after after being struck in the Black Sea, forcing it to return to port, according to a Ukrainian official.
Vsevolod Bobrov was apparently hit off the coast of Snake Island and was left "limping" back to Sevastopol.
Serhiy Bratchuk, a spokesman for the Odesa Regional Military Administration, said: "As a result of the actions of our Navy, the Vsevolod Bobrov logistics ship, one of the newest in the Russian fleet, set on fire. They say she is limping toward Sevastopol."
However the spokesman added that "the information is yet to be clarified", and The Independent has been unable to verify the report.
Mr Bratchuk said the vessel was "brand new", having arrived at its Sevastopol base on 17 February, a week before Russia launched its invasion.
Snake Island, a remote outcrop taken by Russia on the first day of the invasion and the scene of renewed fighting in recent days, is located near Ukraine's sea border with Romania.
According to the UK Ministry of Defence, Ukraine is targeting Russian air defenses and resupply vessels on Snake Island in an effort to disrupt Moscow's efforts to expand its control over the coastline.
Last month, the Russian warship Moskva was destroyed in the Black Sea, inflicting a humiliating blow to the Kremlin's naval war effort.
While Moscow claims the Black Sea flagship sank after a fire led to an ammunition explosion, Ukraine has said that it targeted the ship using missiles.
Since Russia was forced to abandon an assault on the capital Kyiv at the end of March, its main force has been trying to encircle Ukrainian troops in the Donbas.
In Odesa in the south, firefighters battled blazes until the early hours of Tuesday after seven Russian missiles hit a shopping centre and depot on Monday. One person was killed and five people were injured, Ukraine's armed forces said.