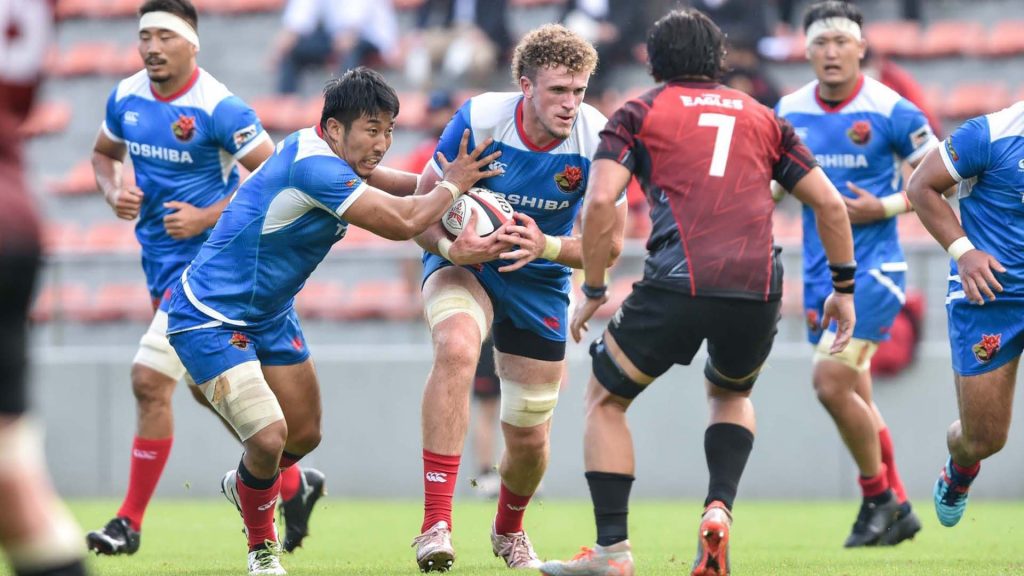 12:27am, 13 May 2022
He may have made his test debut as a teenager for Japan last year, but Kiwi youngster Warner Dearns could yet become an All Black.
That's a prospect that may only ever come to fruition following next year's World Cup in France, though, as the 20-year-old lock targets Japan selection for that tournament after having debuted for the Brave Blossoms against Portugal last November.
At just 19-years-old, Dearns achieved the rare feat of becoming an internationally-capped teenager when he came off the bench in Japan's 38-25 win over Portugal in Coimbra six months ago.
Aotearoa Rugby Pod | Episode 13
With a taste for what test rugby is all about, Dearns is hungry for more.
That begins with Japan's upcoming tests against Uruguay and France over the next two months, and the Toshiba Brave Lupus second rower is hopeful it culminates in World Cup selection next year.
Beyond that, Dearns is unsure about where his playing career lies, but, thanks to World Rugby's new eligibility laws, he hasn't ruled out a return to New Zealand to push for a place in the All Blacks.
"Obviously as a young boy growing up in New Zealand, you want to put on that black jersey," Dearns, the son of former Silver Ferns netball star Tanya, said in a Japan Rugby League One conference call last week.
"But coming over here and having spent lots of time at high school here and actually playing a test now for Japan, I feel like it's a second home at the moment.
"At the moment, my goal is to play in the next World Cup for Japan, but if an opportunity arose that was intriguing, I'd definitely have a look at it and see what my options were."
Born and raised in Hawke's Bay, where his father Grant worked as a strength and conditioning coach for the province's NPC team, Dearns attended Napier Boys' High School for a year before enrolling at Scots College in Wellington a year later.
His dad's work then took the family to Japan, where Dearns has since flourished from a rugby perspective, winning his maiden Brave Blossoms cap just a year after graduating high school.
That debut was rich reward for Dearns' decision to stay in Japan rather than return to New Zealand upon his completion of secondary school – a decision that was made due to the influence of some high-profile figures at Toshiba.
"Quite early on in 2020 before Covid sort of hit, I had a catch-up with [Toshiba head coach] Todd Blackadder, got to meet him, got to talk to him and picked his brain about different things," Dearns said.
"It was really interesting talking to him, and I thought, 'This is a guy that I want to learn off', obviously having lots of experience coaching and lots of experience playing as well.
"It just so happened that guys Michael Leitch and Matt Todd were playing for the team he was coaching, so when I had the opportunity to come to Toshiba, I jumped at it because of the experience and all that I could learn off these guys.
"Looking at options back in New Zealand, it would have been tough going back and starting from zero, going to an academy or something like that where there's lots of talent.
"Being over here and having that opportunity, I thought that was probably the best for me."
Despite opting to stay put instead of returning to his homeland, the allure of playing in Super Rugby Pacific and the NPC – and potentially for the All Blacks – is enticing for Dearns.
While he hails from Hurricanes territory, Dearns maintained that he isn't a fan of any Kiwi franchise, but is interested in one day trying his hand in Super Rugby Pacific.
"Growing up in New Zealand, I've always watched Super Rugby and I always thought I'd love to play in those sort of games," he said.
"I think, at the moment, I'm focusing on trying to get into that Japan squad, and that's actually the focus at the moment.
"In the future, I'd love to have a stint, maybe coming back and playing a bit of Super Rugby or a bit of NPC or something like that, just because I've always sort of wanted to since I was young."
A stint in New Zealand could even be used by Dearns as an opportunity to undertake the three-year stand down required by World Rugby for players looking to switch international allegiance from one country to another.
That is, of course, if the promising lock – who already stands at 2.02m and 124kg – is intent on playing for the All Blacks, a pipe dream that remains on the back-burner for the foreseeable future.
In the meantime, there's a place in Japan's World Cup squad to compete for, and a possible outing against the All Blacks later this year could go some way to cementing his place at France 2023.
"[There are a] couple of games soon that I'd like to be a part of as well," Dearns said about potentially facing off against his nation of birth in an end-of-year tour fixture that is yet to be formally announced.
"Uruguay and France, I'd love to be a part of those games, but, looking ahead, it'd be awesome to be on the field against the All Blacks. That'd be a huge opportunity."
Comments
Join free and tell us what you really think!