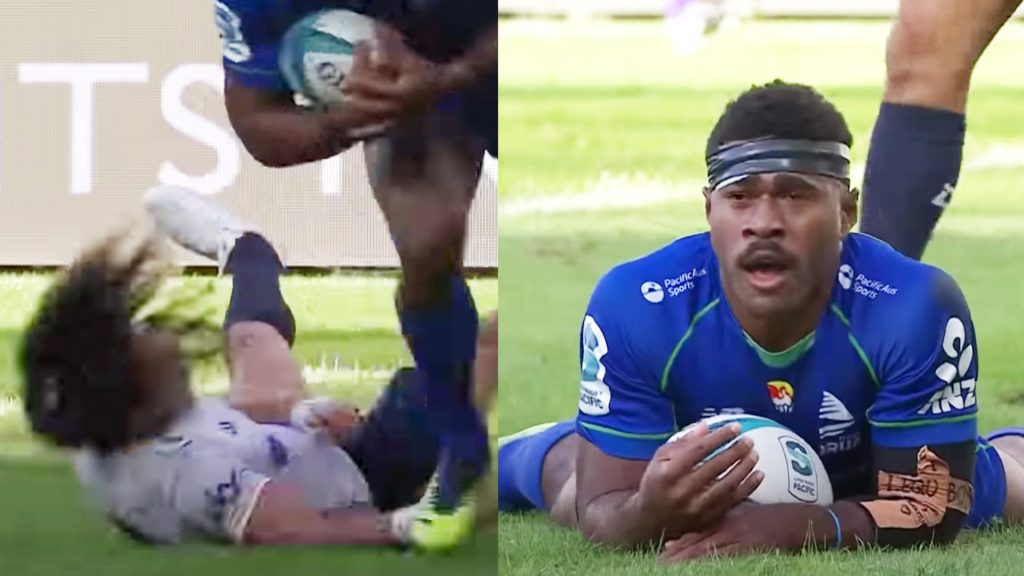 7:43pm, 14 May 2022
Fijian Drua winger Vinaya Habosi furthered his claim as one of the world's fastest wingers with his latest effort against Moana Pasifika in the Drua's 34-19 win in Sydney.
The 22-year-old picked up the Drua's second try just seven minutes into the game when a loose offload from openside Solomone Funaki went to ground just 25 metres out from the Drua's line.
Unfortunately for Moana Pasifika, Habosi was there to snatch the bouncing ball between two defenders. The Fijian wing bounced off both tackles in a sandwich between the three players.
Where Eagles Dream | USA vs All Blacks documentary
In a footrace with Lincoln McClutchie, the 22-year-old turned on the jets to burn down the left hand touchline and escape the ankle tap effort from Moana Pasifika's first five.
With halfback Ere Enari remaining as the last defender, Habosi showed no fear as he rounded the halfback while already over the try line to make sure the Drua could score next to the posts.
Pace, pure pace! 🔥 pic.twitter.com/g5HaEsnG2A

— Super Rugby Pacific (@SuperRugby) May 14, 2022
Habosi is fast becoming one of the stars of Super Rugby Pacific with his name now being pushed frequently for a call up to Vern Cotter's Fijian side this July.
The Flying Fijians are scheduled to play Tonga and Samoa in this year's July international window.
As they look to build depth for next year's World Cup, younger in-form players like Habosi could be in the mix to debut for Fiji.
Is Habosi the fastest man in Super Rugby?

— Mi-Goreng🍜 (@onIycans) May 14, 2022
Habosi quickly becoming one of my favourite players to watch.

— Whittaker Walt (@whittaker_walt) May 14, 2022
You dont teach Habosi….He is the magician

— Jone T Rasigare (@rasigare) May 14, 2022
Knew that was a try the moment the pass hit the floor. Habosi. Just skinned em.

— PaperKicker (@CaqePepa_Inc) May 14, 2022
I wouldn't want to be him, add Botitu to the list too…as for the wingers, boiii that's a bigger headache but my bet is for Habosi to get that world cup wingers spot. Someone from the likes of Jiuta Wainiqolo, Eroni Sau, Tuimaba, Nadolo etc has to miss out.

— Leon (@leon2kool) May 14, 2022
Comments
Join free and tell us what you really think!