What's the buzz on Twitter?

Austin Krell
@
NBAKrell
The way the 2016-19 Rockets are talked about is nuts. Top 2 seeds in 3 straight years. Would've beat the KD Warriors, arguably the greatest team ever, had Chris Paul not gotten hurt, and then would've ostensibly gone on to win a title. "What did those Rockets teams win?" C'mon. –
7:13 PM

Sam Quinn
@
SamQuinnCBS
Deleted this tweet because I think there was a misconception that I'm saying that I personally wouldn't offer guys like this for Durant. I probably would (though Barnes I'd hesitate on).
I'm saying teams tend to be much stingier about giving up young guys of this caliber.
pic.twitter.com/jqE8S7kFpD
–
7:13 PM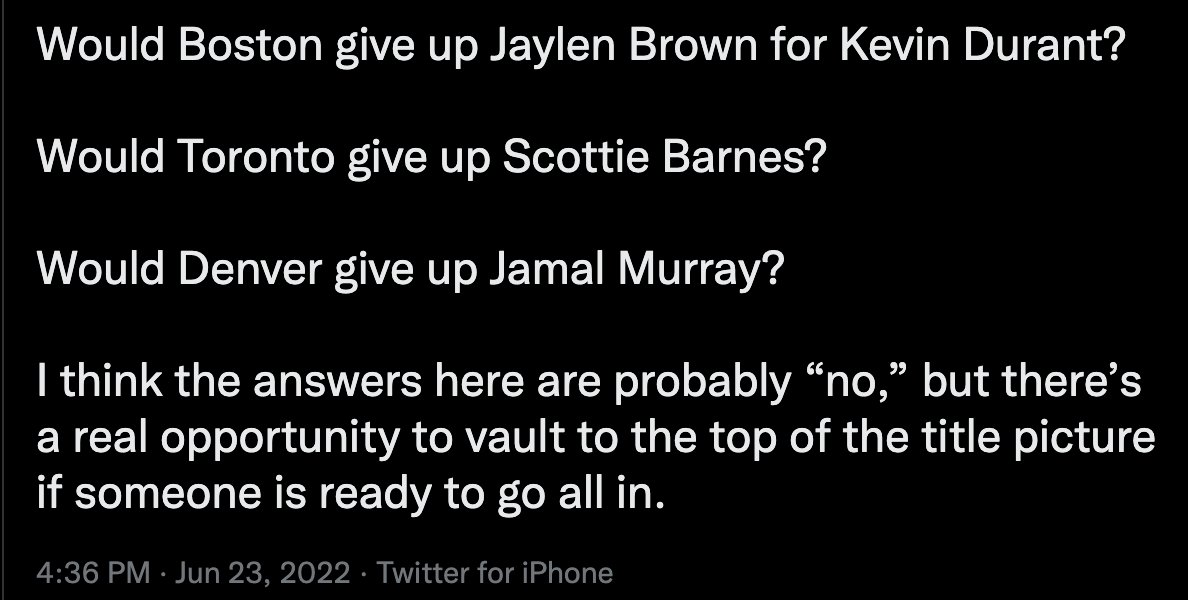 Sam Quinn
@
SamQuinnCBS
I have no idea what Kevin Durant will actually net in a trade if it comes to that.
I think he's worth as much as basically any star ever traded. I don't know how much power he'll have to force a destination. I don't know how fearful teams are of his age and flight risk status. –
6:47 PM

Chris Herrington
@
ChrisHerrington
If you ranked all 29 teams (someone will do this if they haven't already) in terms of most realistic Durant trade destinations, the Grizzlies are a lot closer to the top than the bottom. Still not all that realistic, but … –
6:21 PM

Sean Deveney
@
SeanDeveney
The Nets were just hanging out with a young team that had improved by 14 wins in the spring of 2019 when Kyrie Irving and Durant told them, "Hey, you guys, get excited, we're coming to play for you!"
Oh.
Lucky us. –
6:18 PM

David Hardisty
@
clutchfans
I expect Nets to work this out with Kyrie/KD, but this year may be the only season they can struggle and be fine. This is
#Rockets
last year they expect to lose. Their pick will be high. They only have swap rights this year. BKN could finish #7 in the draft and still keep it. –
5:18 PM


Anthony Puccio
@
APOOCH
I understand they're in the middle of a negotiation battle, but let's say they do lose KD and Kyrie — they fired Kenny Atkinson, his staff, fired Nash's staff, traded away all their core pieces.
What's next?
A rebuild with Nash leading a young core? –
4:42 PM

Sam Quinn
@
SamQuinnCBS
For the record the Kevin Durant trade I would hope for as an objective basketball fan would be Memphis. –
4:37 PM

Krishna Narsu
@
knarsu3
Kyrie getting traded to the Sixers and KD getting traded to the Warriors would be by far the funniest outcome –
4:31 PM

Sam Quinn
@
SamQuinnCBS
I think the Nets are going to figure this out. I think Durant, Kyrie and Simmons are gonna be in the opening day lineup.
But if they don't, this immediately becomes one of the greatest disasters in roster-building history. To go from favorites to this in ONE YEAR is unheard of. –
4:29 PM


Brian Robb
@
BrianTRobb
Intriguing leverage play here by Kyrie/KD to get Irving his max deal with the Nets. We will see if Sean Marks blinks first even though he's holding most of the cards. Durant is signed through 2025-26 and Kyrie can't go anywhere he wants to in free agency without Nets' help. –
4:18 PM

Shams Charania
@
ShamsCharania
Sources: Kevin Durant is monitoring the Brooklyn Nets' situation and considering options with his future.
This now opens the path for Kyrie Irving to proceed on finding a new home via opt-in and trade. –
4:07 PM


Here's a better question: how likely is it that Durant retires with the Nets? His loyalty was always with Irving more than with the organization. According to comments made by ESPN's Nick Friedell on SportsCenter, Durant and Irving aren't as close as they used to be. "At every turn publicly, [Kevin Durant] has been there to support [Kyrie Irving], to say we need Kyrie, to say Kyrie can win a title with me here in Brooklyn. But I can tell you, I've been talking to people in the organization the last couple of weeks, when they finally sit down and talk to Kevin throughout the summer, they are trying to figure out if Kevin saw what everybody else saw. … The reason that whole season got sidetracked was because they couldn't count on Kyrie, and they didn't know if he was going to be out there. And
the issue with Kevin is, he wants to win badly, he wants to be loyal to his friend. But I've been told that relationship, while very close, isn't always as close as it appears to be."
-via
SB Nation
/ June 23, 2022
To leave a comment, you will need to
Sign in or create an account
if you already have an account. Typed comments will be lost if you are not signed in.