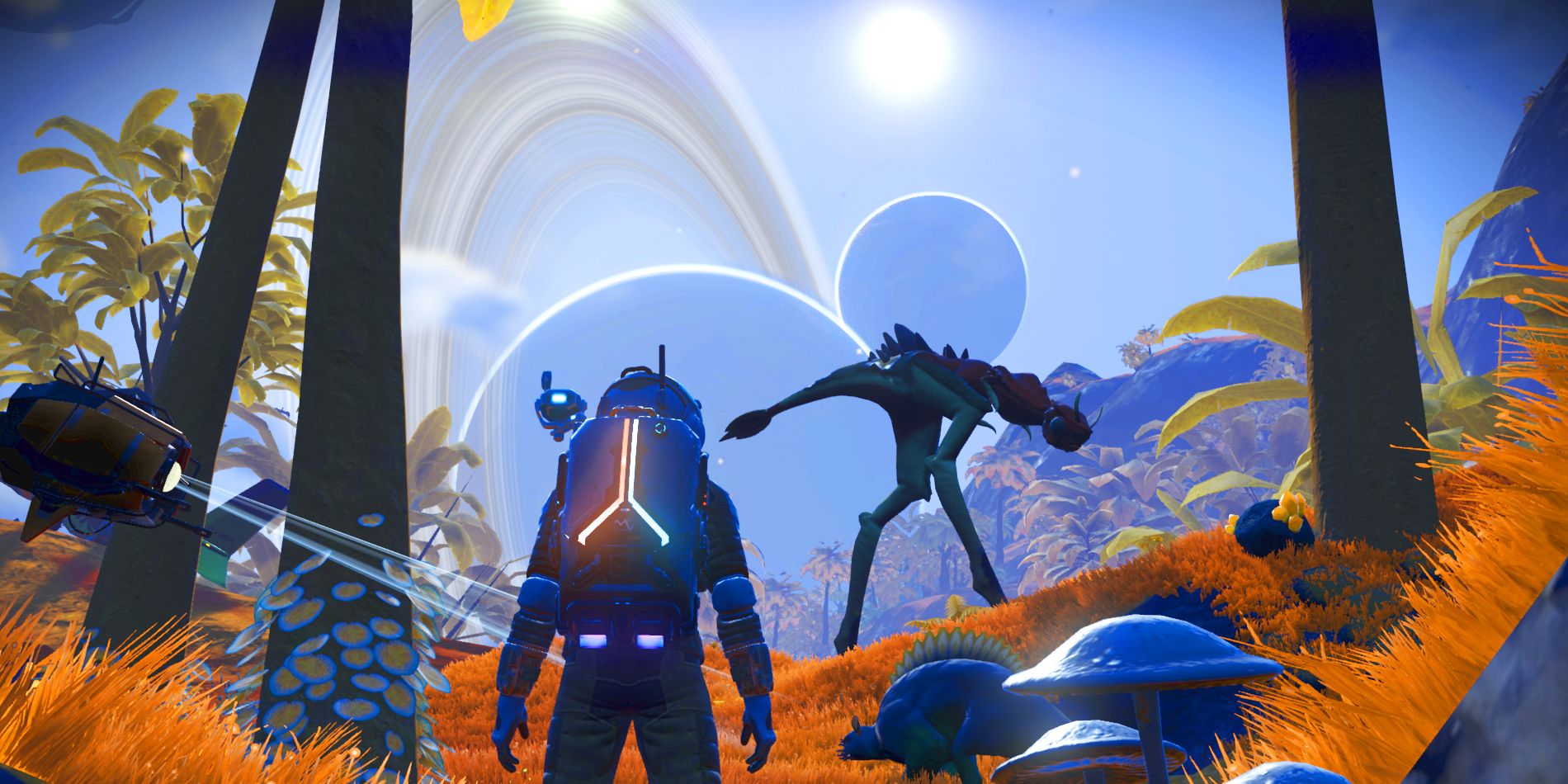 The No Man's Sky universe is about to embark on new adventures this October, with the open-world space sim becoming available on the portable Nintendo Switch and being newly remastered for the PS5. No Man's Sky became a heavily anticipated indie game after its trailer mystified audiences during E3 2014. Years after its 2016 release, consistent updates have helped make No Man's Sky's space exploration some of the best available in the genre.
Since No Man's Sky launched, developer Hello Games has released twenty free updates, adding substantial new content to the game. The newest updates have made combat more exciting, adding fresh variation to the game's universe. Players can also fulfill their dreams of becoming space bounty hunters and even own a pet Space Whale. With so many ways to tackle space exploration in No Man Sky, the news of Nintendo Switch compatibility will likely be exciting for fans of the game's other versions.
Related: Everything No Man's Sky Leviathan Update Adds
The vast and beautiful No Man's Sky universe will be available on the Nintendo Switch along with a remastered physical release for the PlayStation 5 on October 7, 2022. Both versions will launch with the extra content the twenty major updates have provided. The PS5 release will be the first time the game has physically been available to purchase on the current-gen system and will contain the same version of No Man's Sky currently available on the PlayStation Network. According to Hello Game's development team, bringing their game to the Switch's limited technology was a real challenge. Still, as Sean Murrey puts it, "…this team never seems happier than when they are trying to do near-impossible things".
Essential mechanics including space exploration, base building, shooting mechanics, and space combat has all been added and drastically improved since No Man's Sky first launch. Additionally, the game's procedural generation ensures players encounter new planets and discoveries. However, the universe players explore is generated by the game console's power. The Nintendo Switch is capable of presenting colorful worlds like those found in Super Mario Odyssey and Crysis Remastered. However, it is likely Hello Games had a difficult challenge adapting No Man's Sky's thousands of hours worth of space exploration for the less technologically powerful console.
Games focused on space exploration are becoming more common, especially after No Man's Sky's announcement trailer fueled imaginations worldwide. Open-world RPG savant Bethesda is working on its own space exploration game, Starfield, that's seen many comparisons to No Man's Sky since its recent gameplay reveal. However, Hello Game's work being compared to one of the gaming industry's most prolific open-world developers is a good reason to check out No Man's Sky when the new console releases become available this fall.
Next: No Man's Sky Is (Almost) The Only Space Sim That Isn't A Disappointment
No Man's Sky will be available on the Nintendo Switch on October 7th, 2022. It is currently available on PlayStation 4, PS5, Xbox One, Xbox Series X|S, and PC.