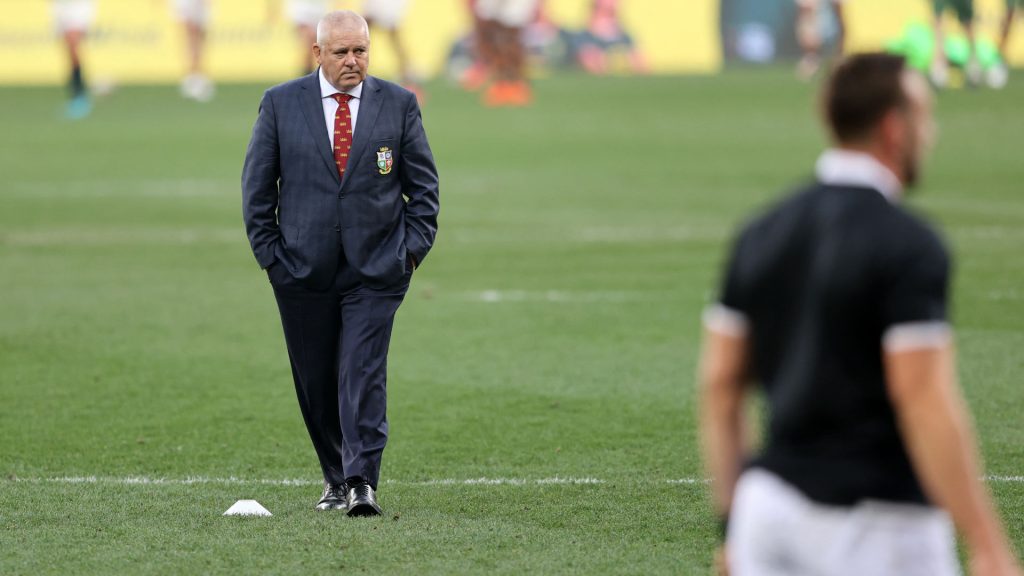 8:53am, 23 June 2022
Rugby matches can pivot on the smallest of moments and the British and Irish Lions tours are no different. In 2009, Ireland fly-half Ronan O'Gara was the fall guy. In the secont Test, O'Gara got bumped out of the road by winger Jacques Fourie for the Springboks' 73rd-minute try in Pretoria, which put them in front, only for teammate Stephen Jones to level it back up 25-25 in the 78th minute.
A fateful chip and collect attempts with thirty seconds on the clock then saw the then-Munster player clatter in the airborne scrum-half, Fourie du Preez. Morne Steyn slotted the penalty and the Boks took the series with a game to spare.
Twelve years later and the 2021 tour appears to now have its own official scapegoat, at least according to the excellent Two Halves documentary. The series, which aired this week on ITV, shed a spotlight on the tour that nearly never was and gave an insight into what management and players thought of the series, with the benefit of several months' hindsight.
Freddie Burns- Leicester's drop-goal hero | RugbyPass Offload | Episode 39
What emerged was that Liam Williams' failure to pass to Josh Adams in the third Test was seen by Gatland – and the player himself – as the mistake that swung the series in favour of the Springboks.
Just before half-time, with the Lions already leading 10-3, Williams had an opportunity to put his fellow Welsh countryman Josh Adams clear up the right touchline and put the Lions potentially out of sight. Adams would have bet on himself to beat Willie le Roux to the Springbok tryline after scoring eight tries in four games on the tour. Instead, Williams hesitated for a split second and Springboks fly-half Handre Pollard got in a tackle.
? ??? ?????

We loved sharing our story of the 2021 Tour of South Africa.

If you missed our docu-series 'Two Sides', all episodes are now available 'on demand' via @itvhub ?

— British & Irish Lions (@lionsofficial) June 22, 2022
"You have got to keep your cool, keep your composure, you have got to be accurate, this is going to come down to kick or one decision," said Gatland when talking about the incident. "He [Williams] passes that ball, Josh scores. I don't think they [South Africa] come back from that."
A clearly emotional Williams was equally hard on himself. "I don't even know why I didn't pass it," he sighed. The Scarlets player, who is joining Cardiff for the 2022/23 season, was asked had he spoken to anyone about the pass, one of the documentary's final scenes.
"I've not spoken to anyone about it [to nobody at all]. I cried when I got home. It's just the way it is," said Williams, whose voice was clearly shaking. "It's quite tough."
It seems incredibly harsh to blame Williams for that one mistake, not least given that Tom Curry gave away a penalty a few minutes later with the Lions about to rumble over for a maul try off a lineout. Maybe appropriately, O'Gara shared his view on Williams' faux pas during the tour as a pundit and it was clear he was sympathic with the Welshman's plight.
"It's brutal, it's ruthless, this level of the sport because the higher you go, you know the margins get smaller and smaller. There are tiny little things but I'd agree with Ian (McGeechan) in that the boys in red will be hurting as there were probably two chances to win the series.
"The first Test, they did the business and they had their foot on the throat in the second 40 minutes of the second Test but didn't kill off South Africa. And you look at today and it probably came down to Liam Williams not hitting Josh Adams outside him to score. Those decisions cost you.
"In cup rugby, it's imperative to take your points. It's easy when you are on the couch, but it's not easy when your heartbeat is going up around 200 beats per minute. But that is what composure is."
Comments
Join free and tell us what you really think!