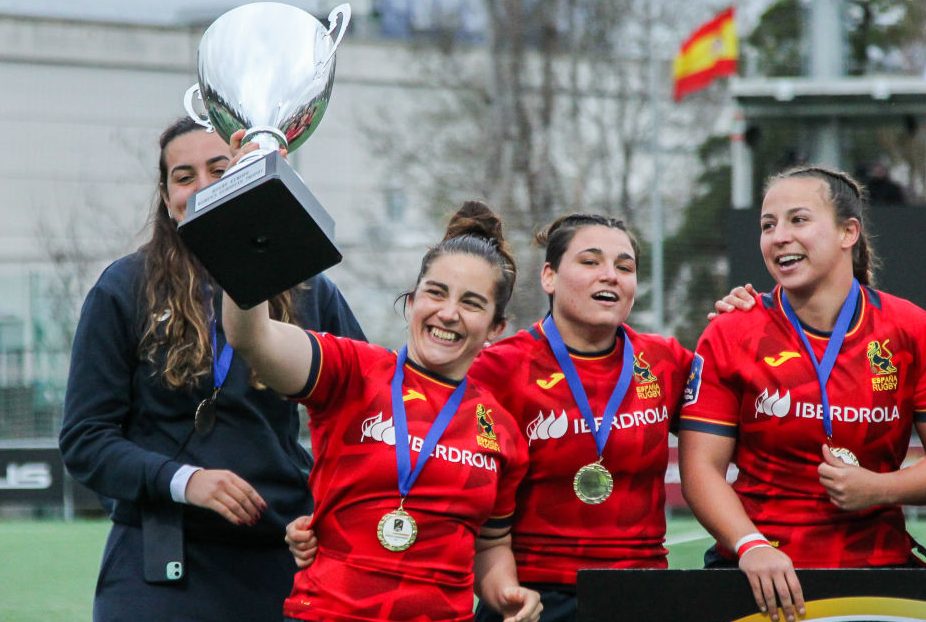 8:41am, 23 June 2022
The first weekend of June did not provide the fairy-tale ending Patricia Garcia had hoped for in the Premier 15s final trophy clash at Sixways between Exeter Chiefs and Saracens. Saracens showed their pedigree to run in try after try and claim a comfortable 43- 21 victory over the Devon-based side and an impressive third Premier 15s title.
Garcia, who has made appearances for Chiefs this season at fly-half, scrum-half and centre had announced her retirement a number of weeks back, and was met with roars of approval as she left the field for the final time in the midst of a game which was slipping out of the Chiefs' hands.
The versatile back has had a glittering career spanning over a decade, including international honours for Spain in both sevens and 15s, appearing in two World Cups apiece, as well as attending the Rio Olympics in 2016.
Abbie Ward on beating New Zealand, moving to Bristol and quick-fire questions | Tunnel talk
In a pandemic-hit 2020, Garcia packed up her teal minivan (complete with fairy lights), collected fellow Spanish teammate Laura Delgado and headed to Exeter to join Susie Appleby's newly formed Exeter Chiefs women's side. Featuring in almost every team sheet for the Chiefs, Garcia burst into the Premier 15s with her trademark energy, scoring over 100 points for her club, only the second Chiefs women's player ever to do so.
Although Spain's World Cup dreams were dashed in their qualification game against Italy in September 2021, Garcia was undeterred in her XVs efforts this year. Known among her teammates for her commanding presence both on and off the field, she has directed Appleby's side around the park and slotted many match winning goals, most memorably a last gasp penalty to a win against the then-defending Premier 15s champions Harlequins, by a single point to ignite the side's unstoppable charge to the final.
At the age of 32, Garcia confides that she has known since the beginning of this season that the time had come to hang up her golden boots, saying: "I feel satisfied with this 14-year chapter of my life. I have achieved my dreams and had the opportunity to end on a good moment whilst I am playing well with the Chiefs."
Despite the disappointment of losing the Premier 15s final, Garcia holds that it was still a good moment for her to retire on her own terms, saying: "I had friends and family in the crowd, it wasn't with the trophy, but for me this was not the most important thing. It felt like all the air had gone from my body, it is done, it has arrived. This is the moment I have been waiting for for a long time…it was what I wanted to do so I am happy it happened in a final in the Premier 15s."
Gracias por todo, Patricia ?

The moment @PGR_RUGBY brought the curtain down on a stellar 14-year career…#Premier15sFinal ? pic.twitter.com/x4qxM7zcDD

— Allianz Premier 15s (@Premier15s) June 3, 2022
Chiefs supporters have valued having Garcia in the ranks of their international star-studded team and her combination of talent and charisma made her a clear fan favourite. At the final whistle, the crowd became a sea of Spanish flags which fans had brought as a tribute to their talismanic ten's final game. Garcia says that it was "incredible to see so much support from the crowd, and so many Spanish flags. Our fans are great and it was a wonderful surprise, I am so grateful for the support."
A last goodbye came during the Chief's open top bus tour of the streets of Exeter the following Monday, a belated celebration of the sides' Allianz Cup victory earlier in the season. There was a hollow atmosphere initially with feelings of disappointment lingering, heightened by the absence of many of the Chiefs core squad who had already departed for their various international duties. However, as the tour made its way through the streets, the cheers, waves and chants of the fans roused the atmosphere, and there were final farewells to fans and teammates alike.
Garcia says: "It's never easy to say goodbye to teammates, some of them you know you may never see again, so it is emotional. I won't say it's sad, because I don't think everything should be forever – life is for learning and enjoying. I am happy to have all the memories from an opportunity I know not everyone has. I will miss this team, but there is more to come."
However, Garcia's legacy has not only been built on the field with the Spaniard coaching within the Exeter Chiefs Academy and Centre of Excellence to help pave the way for the next generation to shine at Sandy Park.
Chiefs head coach Susie Appleby commented: "Pat is an outstanding player who leads from the front. Her influence has gone beyond the field and the work she has done [through her community role at Chiefs,] developing our younger players in the counties has been invaluable and leaves a legacy which will continue. I cannot wait to see where the next chapter takes her."
So where next for the new retiree? First and foremost, Garcia intends to spend time with her friends and family – it hasn't been easy for her to put rugby ahead of all other priorities, particularly when her career has taken her across the globe, with clubs based in Spain, France, Japan and New Zealand.
— Patricia GARCIA RODRIGUEZ | OLY (@PGR_RUGBY) June 4, 2022
A camper-van trip across Europe is in order, in which she intends to "use time alone to reflect and recharge, before focusing on my next project." Garcia has already done great things with PGR NGO, a non-profit which brings rugby around the world from schools in Chile, communities in the Sahara desert, and the prisons of South America.
Whatever she decides to focus on and wherever she heads next, there's no doubt Garcia will do it with her trademark grin and absolute commitment.
One thing is for sure – we have not heard the last of Patricia Garcia.
Comments
Join free and tell us what you really think!