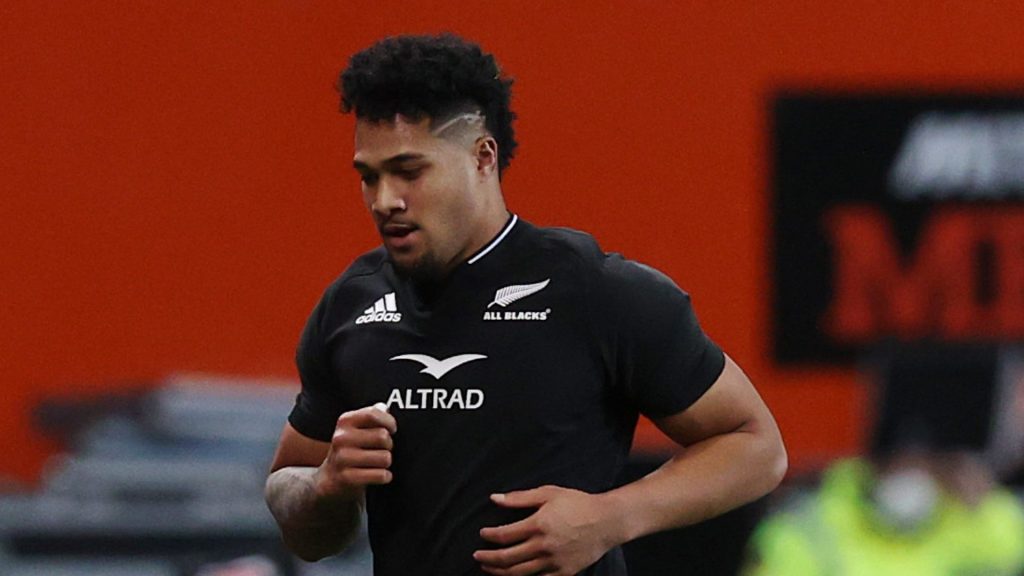 9:02am, 05 August 2022
Rookie All Blacks winger Leicester Fainga'anuku has spoken about the incredible name on his birth certificate – Leicester Ofa Ki Wales Twickenham Fainga'anuku. The twice-capped 22-year-old is currently in South Africa with Ian Foster's New Zealand for their two-game Rugby Championship series.
The recent Super Rugby Pacific title winner with the Crusaders arrived on the international scene last month, starting the first two All Blacks matches in the three-game series versus Ireland on the left wing before losing out to Will Jordan for the deciding game in Wellington, with Sevu Reece switching from right to left.
He was since named as part of Foster's 36-strong Rugby Championship squad but hasn't forced his way back into the matchday 23 for Saturday's opener versus the Springboks in Mbombela, Caleb Clarke instead getting chosen at No11 in place of Reece.
In the meantime, an interview has been published in the latest edition of Rugby World magazine where All Blacks newcomer Fainga'anuku explains his fascinating name which dates back to him being born at the time his father Ta'u was propping for Tonga at the 1999 Rugby World Cup.
Capped on a dozen occasions by the Pacific islanders, Fainga'anuku featured in three matches at the finals, starting against the All Blacks in Bristol and against Italy in Leicester before appearing off the bench versus England at Twickenham.
The 50 most influential people in rugby: find out how we compile this list and who makes the cut in the latest issue – OUT NOW! https://t.co/FL3r77l1dL pic.twitter.com/qzoIvaVqYW

— Rugby World (@Rugbyworldmag) August 3, 2022
It was October 11 when Fainga'anuku was born in Nuku'alofa the day after Tonga defeated the Italians 28-25 at Welford Road and that victory resulted in an eye-catching name that needs explaining. "I'm trying to figure out if it was the right place, right time of if my old man had a bit too much to drink," quipped Fainga'anuku in the magazine interview.
"It's everything to do with dad's experiences at the 1999 Rugby World Cup and obviously for people who come from the small nations of Tonga or Samoa in the Pacific, to attend a World Cup was something so big.
"Then they had their famous victory over Italy – I remember watching it back and it was funny to see the old man all puffed out! – and it kicked off from there. They played Italy on October 10 and I was born on the eleventh.
"My mum was back on the islands and I don't know whether he woke up with a bit of a hangover or whatnot, or if he had told the boys, 'What should I name my son? We just won, let's name him after the boys' trip here'. I'm not too sure.
"I'm still trying to match the puzzles at the same time, you know. I should really sit down with him for a coffee and get down to an answer. It's definitely a cool thing and it's not common to come across names such as mine.
"I could be cursing my old man, 'Why did you name me after rugby stadiums and places?' But I got to the realisation it was something special and I'll cherish it because he named me after something so special to him. I'm grateful and humbled to carry that on for him and it's come perfectly with my own journey and story right now in footy."
The Fainga'anuku family moved to New Zealand from Tonga in 2000, initially settling in Auckland before moving on to Nelson.
Comments
Join free and tell us what you really think!